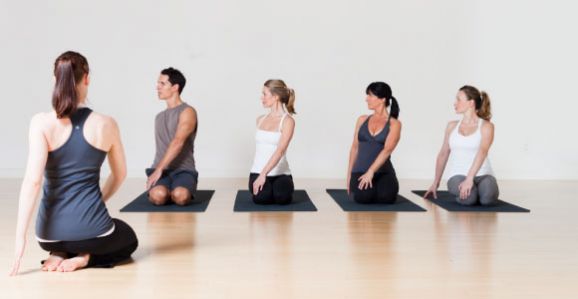 By Rachel Scott
From YYoga's blog
You catch sight of it out of the corner of your eye. There's a perky little splash of red on one of the YYoga Events Boards. You look closer. It's the announcement for an information session for the upcoming 200-hour teacher training.
Something inside of you starts buzzing. Teacher training, hmmmm… It sounds kind of intriguing. Imagine spending 200-hours really exploring your yoga practice, finding out more about yoga and figuring out how to really do those darn poses. And you know, it would be great to learn how people get that floaty thing happening when they jump forward….
But no, you squelch the feeling. Teacher training is not for you! What were you thinking? You scoff. Teacher training is for people who absolutely want to be teachers. Teacher training is for students who can put their foot behind their head or do a one-handed handstand. Or at very least, surely teacher training is for people who don't have tight hamstrings. Right?
Wrong.
Teacher training is just about the only place where you can take a solid chunk of time and completely invest in your own personal yoga practice. Ever wondered how to take your Warrior II to the next stage? The answers are in Teacher Training. Are you curious about how exactly it is that people get up into handstand anyway? Take a teacher training. Want to know more about pranayama? Teacher training. Have you ever wondered just how the heck yoga came about? You got it: Teacher Training.
There is simply no other forum for taking such a deep dive into yoga. Asana, philosophy, anatomy, history, subtle body…all this and more is covered in teacher training while teachers go over your personal practice with a fine-toothed comb (and perhaps kick your butt a little). And while you're at it, how about some personal transformation to boot? Not bad for just 200 hours.
Top Ten Reasons to Take a Teacher Training:
1. Get a supercharged yoga practice. You think your alignment is good now? Wait until we get our hands on you.
2. Learn the "why" behind the "what" in asana by learning anatomy. Why do yoga teachers say the things they say? How can you make your own practice safer, more effective, and more functional? The answers lie in applying anatomy to yoga. What you learn in your anatomy sessions will serve you in all physical areas of your life.
3. Make friends. The YYoga community is an amazingly welcoming place as it is, but just imagine being in an intensive with a crew of cool, like-minded travelers. Deepen your connection with YYoga, the students, and our teachers.
4. You want to learn more about the "juicy" stuff. Take the time to explore pranayama, meditation, and the subtle body in a way that's not possible in a regular class.
5. Ask your questions. Have an itch to know something? Wondering how we do that thing? Trying to figure out that pose? Here's your opportunity to get your questions answered.
6. Explore philosophy. Where does yoga really come from and why did it start? How can I be happier? If you like mulling on the deeper questions of life, you'll love taking forays into yoga philosophy. You'll be surprised by how little we've changed in 2000 years.
7. Speak in Public. We know you may hate it. Here's your chance to get over it.
8. Take time for you. Take a breather from daily life. Give yourself the time to get reacquainted with who you really are, while investing in your health and growth.
9. You love yoga. Has yoga made you happier? Healthier? Learn more about your passion.
10. Learn to teach. Sure, we've even got stuff in here on how to teach yoga to students, should you choose that path. Learn to share your passion effectively, safely, and dynamically with your students.
When I took my first 200-hour training, I actually had no intention of becoming a teacher; I was simply hungry to know more about something I loved. So what are you waiting for? Dive in. Invest in yourself.
But be warned: yoga insight can become addictive.