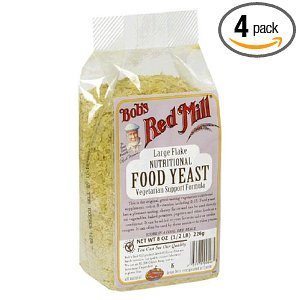 I decided to make vegan lasagna.
Well, actually, I made a lasagna that is half vegan and half with cheese for Alan.  In lieu of cheese on my side, I used nutritional yeast.
To understand the import of this dinner, you must understand that I don't really cook.  Sure, I steam.  Sure, I could sauté some veggies.  And I could make a mean pizza in the oven.  (Ahem – a pre-made pizza.)  But cooking?  Like putting more than three ingredients together?  Well, it's just not been done.
And Alan was no better. He'd spent most of his life eating in restaurants.  Before I came along, his kitchen was strictly to store utensils for the take-out.  So to make a lasagna seemed like quite an adventure.
I decided to make the sauce from scratch.  I'd made sauce before, so I wasn't too worried.  But what I didn't count on was the amount of sauce that I would actually need to make my pasta behemoth.  I wound up dumping in two jars of pre-fab sauce before I finished just to have enough.
Not wanting my side to just be layers of noodles and sauce, I bought an eggplant and some spinach to layer in.  I had read someplace that eggplant has to be drained, so I pulled out the old "Joy of Cooking" and looked it up.
Alan walked in to see me squashing slices of eggplant underneath a dictionary.
"Dare I ask what you are doing."
"Draining the eggplant," I said, "Duh."
He retreated.
I started adding in my layers.  Cooked noodle, then sauce.  Ricotta and parmesan cheese for Alan, more nutritional yeast for me.  Noodles, then spinach.  Noodles, then more sauce with the nutritional yeast or cheese.  Noodles, then eggplant.  Noodles, then sauce and cheese or nutritional yeast.  Top it all off, dump it in the over, and voila.
When we tried my dinner, Alan was thrilled.  He got a little angry.  "This is soooo good!" he growled.  "Damn."
I smiled.
"Here," he said, "I want to try your side."
He reached over and speared a piece of my lasagna.
"You're not going to like it," I warned.
He tried it anyway.  He chewed.  And chewed.  And swallowed.
"You're right. Well, it's not bad," he amended, "It's just not…fantastic.  My side is fantastic."
"Of course it is.  You have a tub of ricotta on your side."
"Cheese is delicious."
"I know." I tried not to sound forlorn.  Nutritional yeast really is pretty yummy, and – vegans take note – it's an excellent source of B12, which is a challenge to get into our diet.  But it's not quite as enticing as ooey-gooey ricotta cheese.  (A full tub.  Did I mention I used a full tub?)
"Well, baby, I'm impressed. This is really fantastic, thank you."
The first lasagna: success.