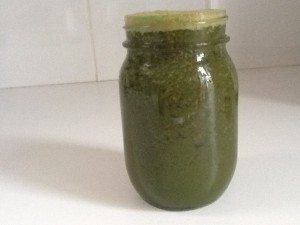 Today I made a juice that resembles brontosaurus upchuck.
Lovena had warned me: when you mix red and green things together, you're going to get something brown and fairly ugly.  If you want pretty juices, stay in the same color palette.  But I've been loving the tomato and green combo, so my juices aren't going to make any magazine covers soon.
Today I juiced with Swiss Chard rather than kale.  Swiss Chard is the green that looks like it should be hanging out of the mouth of a dinosaur (or at least, I always feel very Jurassic when I eat it).  I consume a LOT of kale in general, so it seems good to switch my greens up (Lovena's food allergy warnings playing in my head…).  Like the kale, I put the chard in first so it would be pushed through by the more robust veggies.  This seems to work well.  This juice is a bit chewier because of the ground up leaves; when left standing for a few minutes, it begins to separate.  I actually like the chewiness of it, as it makes the juice feel slightly more on the smoothie side.
The lovely Hannah from SPUD checked in with me to see how I was going.  Well folks, I must confess that I am starting to LOVE my juicer.  It's very easy to use and clean.  I even wore WHITE today when I made my juice, and that is really saying something.
Hannah  asked if I'd noticed any changes in how I was feeling.  Well, honestly, it's a bit hard to discern if juicing makes me feel any different because I've made some other significant changes in my life recently (like doing more cardio and going mostly vegan) that also affect how I'm feeling. But it is fair to say that I get an enormous feeling of satisfaction from drinking something so clearly packed with nutritional goodness.  I still miss chewing on breakfast food, and I find that the juices don't really fill me up.  However, it's the perfect drink to have before going for a morning workout when I don't want to have any solid food beforehand, but need something to get me going.
Coffee Challenge
I think that my next challenge is cutting back caffeine (OMG), continue with the juicing, and seeing how that feels.   I've been on and off the coffee merry-go-round many a time,  so perhaps now it's time to step off.  Oy.  I tremble to consider it.
Okay, Step 1: start by restricting myself to one coffee in the AM.
Yikes.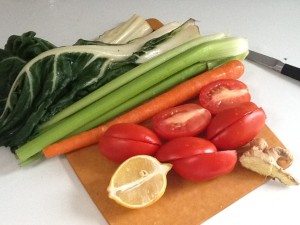 Revenge of the Dinosaurs
1 carrot
4 tomatoes
4 stalks celery
3 leaves Swiss Chard
1/2 lemon
ginger
Nutritional Information
100 g carrot (about 1):

a whopping 330% RDA Vitamin A  (16,500 IU)
10% RDA Vitamin C (6 mg)
9% Potassium (320 mg)
16% Vitamin K (8.3 mcg)
also some B6, Folate, Vitamin E, Thiamin, Manganese
calories 40
300 g tomatoes (about 4 plums

51% RDA Vitamin A (1700 IU)
69% RDA Vitamin C (42 mcg)
21% RDA Potassium (700 mg)
calories = 56
200 g of celery (roughly 4 stalks, though this can vary)

18% RDA Folate (72 mg)
72% RDA Vitamin K (60 mg)
14% RDA Potassium (520 mg)
6% RDA Magnesium (22 mg)
calories = 30
100 g Swiss Chard

122% RDA Vitamin A (6166 IU)
50% RDA Vitamin C
5% RDA B6 (.1 mcg)
4% FDA Folate (14 mcg)
9% RDA Vitamin E (1.9 mcg)
1038% Vitamin K (830 mcg)
5% RDA Calcium (51 mg)
10% RDA Iron! (1.8 mg)
20% RDA Magnesium (81 mg)
5% RDA Phosphorus (46 mg)
11% RDA Potassium (379 mg)
9% RDA Copper (.18 mg)
19% RDA Manganese (.37 mg)
calories: 19
50 g of lemon (about 1/2) yields:

44% of RDA Vitamin C (26 mg)
calories 15

Total calories: 160