First day in Maya Tulum for the YYoga retreat  – AHHHHHH.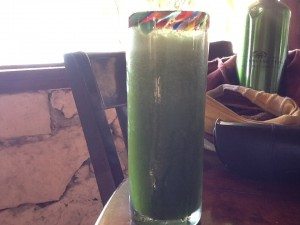 After a brutish day of travel yesterday and gobbling down a meal of guacamole and tortilla chips last night (granted, they were yummy), I craved something green this morning.  The resort offers a selection of smoothies and juices, so I opted for the most veggie centric juice I could find.  So even though I'm away from my now-precious Hurom Juicer, I will still be sampling some of the local juicing fare…
The ingredients:
Cucumber
Celery
Chaya (a spinach like veggie here)
Nopal (cactus)
Light and refreshing…and green.