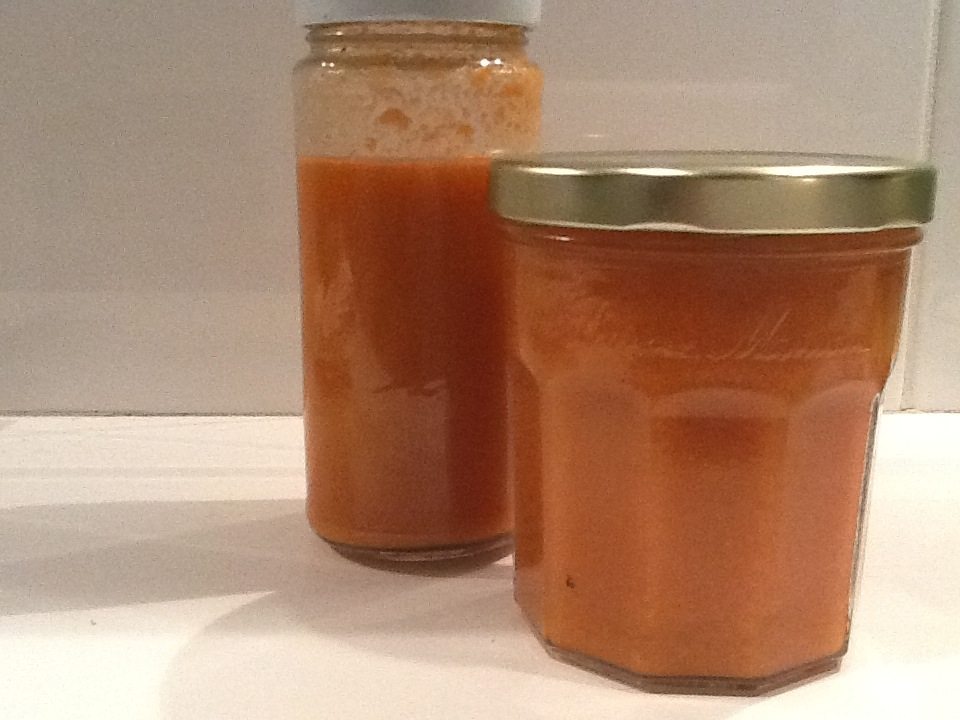 Okay, so when SPUD sent me YAMS in my pre-fab juice box, I was seriously skeptical.
Yams?
Yes.  Yams.
Juicing a yam seemed like about as good an idea as juicing a potato, which is to say, not at all.  Would juice even come out of these tubrous little guys?  I had my doubts.  But SPUD seems to know that they're doing in the juicing world, so I figured it couldn't have been sent by accident.
Inspired by the color, I decided to go all shades of orange.
It blew my socks off.
Yammy Yumminess
1 yam (small)
2 carrots
2 stalks celery
1 lemon
slice ginger
Now, to date, this is the most delicious, sweet juice that I have made.  Given the name, I should have figured that sweet potatoes would be, well…sweet, but I was still surprised.  (What is the difference between a yam and a sweet potato, anyway?)  The yammy juice was on the thicker side, giving this juice just the tiniest bit more heft than other juices.  The lemon and ginger went in for a splash of zing, the celery so that I didn't feel completely non-green, and away we went.
I would never had expected juiced yams to taste so good, but now it's top of my list.  And the color alone will wake you up in the morning.  However, note to self to watch the sugar content – it gets high quick with something this sweet.  Next time I'll use 1/2 yam – or use yam or carrot, but not both.
Or just do the same thing because it's like having dessert in a glass but with more vitamins 🙂
Nutritional Info:
1 yam (small) – estimated 200 g (1 cup)

6% RDA Vitamin A (276 IU)
14% RDA Thiamin (.22 mg)
28% RDA  B6 (.58 mg)
12% RDA Folate (46 g)
58% RDA Vitamin C (34.2 mg)
12% RDA Phosphorous (110 mg)
46% RDA Potassium (1632 mg)
40% RDA Manganese (.8 mg)
Calories: 236

2 carrots

a whopping 660% RDA Vitamin A  (33,000 IU)
20% RDA Vitamin C (12 mg)
18% Potassium (640 mg)
32% Vitamin K (16.4 mcg)
also some B6, Folate, Vitamin E, Thiamin, Manganese
calories 80

100 g of celery (roughly 2 stalks, though this can vary)

9% RDA folate (36 mg)
37% RDA Vitamin K (30 mcg)
7% RDA Potassium (260 mg)
calories = 15

100 g of lemon (about 1) yields:

88% of RDA Vitamin C (53 mg)
calories = 30

Total Calories: 361 (whoa!)