I found Alan in the kitchen, whipping up a batch of my vegan superdrink.
"You're eating all my vegan stuff."
"I'll buy the next one," he said.  "I used to drink this kind of stuff all the time.  Here, I'll make yours for you."
"That's $89 bucks per tub," I pointed out, watching him dole out the powder.
"I know, they've got a lock on this market.  If it's green, has a nutrition promo and a nice looking label, people will buy anything.   They want to be healthy."
"If you don't believe it, why are you drinking all my vegan superfood?"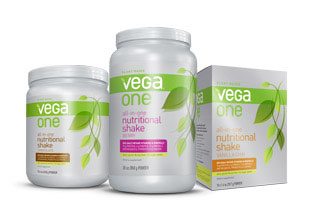 "I didn't say it wasn't worth it, I just said it's a racket."  He handed me mine, all frothy and green. "You have to drink it fast," he advised.  "It won't taste as bad."
Since consuming that first less-than-ideal vegan superdrink (our best strategy was hiding the flavor in orange juice), I have become privy to some truly delicious smoothy recipes from fellow gal pal vegans.  And non-vegans as well.  Turns out everyone likes smoothies, and most smoothies are vegan unless you want to put a chicken wing in with your blended fruit.
My friend Nicole whipped me up a smoothie using the Vega protein powder as a base and adding in her own smoothie bling, so to speak.  (The new Vega products by the way are delicious: chocolate, 25 grams of protein and 130 calories?  Ah, YES please.)  Protein smoothies are a great way to get your protein so you don't have to max out on soy.  And since I seem sensitive to eating too many nuts and beans, getting a steady and easy protein source makes me happy.
So IS this stuff a racket?  Or is it worth the hefty price tag?  Word on the street is that the Vega products are really the best quality around.  So,while the pricing might seem daunting, I'm jumping on the bandwagon gratefully.
"I live on it,"  Nicole says.  "Every morning.  The only downside is having to pick berries and chia out of your teeth afterwards."
I can deal with that.
Nicole's AM Smoothie:
1 packet Vega chocolate protein powder
1 cup frozen berries
ground flax seeds (Grind them!  Or you'll just poo them out.)
chia
hemp
cinnamon (covers up the slight taste of Stevia, which may be the only drawback to the Vega powder)
Make it the night before and you're ready to roll in the morning.