With so many yoga mats out there, it's hard to know which one to buy! Here is my personal take on mats, and a link to a more thorough article by the folks at Runner Click and Reviews.Com.
My personal faves
I use the Manduka PRO Yoga
. I've had it for about a decade and it is indestructible.  However, the Black Mat is huge and heavy. It lives at the studio where I practice and does not leave. In the backseat of my car is "The Mat" from Lululemon, which I carry around for those last minute yoga classes. However, it's pretty heavy too, and I wouldn't necessary want to lug it to every studio if I didn't have a car. When I travel, I use my super light Manduka eKO SuperLite,
that folds up into my suitcase.
Runner Click
Runner Click did a review of their take on the best yoga mats. You can read more here. 
Reviews.Com
Reviews.Com did a bunch of yoga mat test drives and compiled the data to help you find the mat that is right for you. I took a look and I think they have some good intel. There were a few surprises in there! If you're looking to buy a yoga mat anytime soon, here's a good place to start.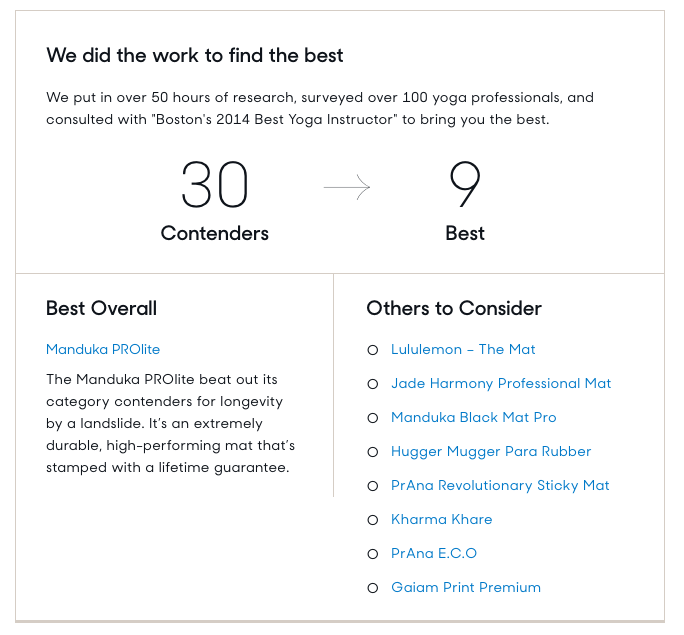 "As an instructor and student who rolls out the mat quite regularly, I know what features I prefer to support my practice. However, considering the many styles of yoga and workout routines that involve mats, I wanted to see what other yoga professionals thought, including those that have been at it practically since the time mats debuted (despite the practice of yoga dating back over 5,000 years, the yoga mat hasn't been around all that long).
In the end, my top choices were pretty easy to grip. There is no perfect yoga mat, and no single mat fits everyone. If you're looking for the best yoga mat that will support your asanas and be your new place to call OM for a lifetime, the Manduka PROLite
is the way to go. It gets my top pick because its durability and versatility are unmatched. However, if you're always taking hot yoga classes and you want to stick to your mat with no towel needed, Lululemon The Mat is likely your best option.
With over 50 hours of research on dozens of yoga mats, I focused on the properties and composition of the mat and how this applies to the various styles of yoga. I surveyed the masses, consulted with over 10 yoga professionals with years of experience on mats, and personally put many mats through hours of testing.
The process was sweaty, and reconfirmed that choosing a yoga mat is akin to choosing your wine — some get better with age, and it all comes down to personal taste. To help find the best yoga mat for you, I've also recommended top picks for specific formats, some of which include my top choices and others which do not.
The 9 Overall Best Yoga Mats…."