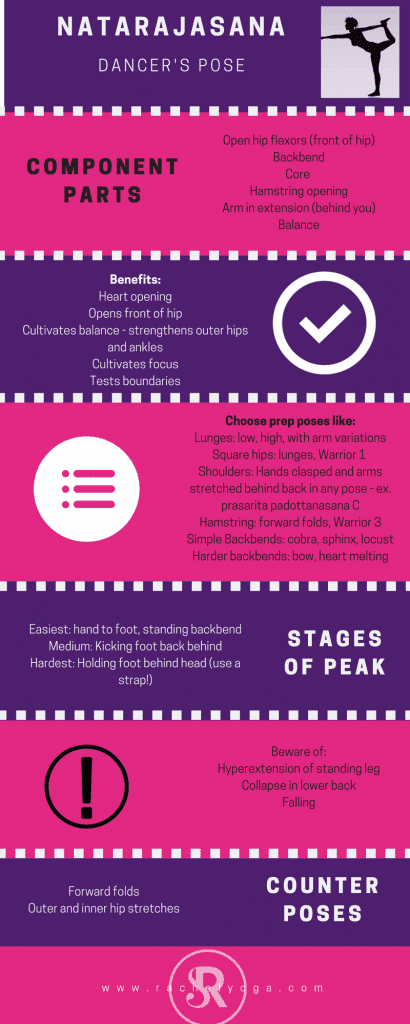 Natarajasana – Dancer's Pose – is a beautifully challenging yoga pose. It's a complex pose with a lot of benefits:
Opens the chest and front line of the body
Works your balance (ankle and hip stability)
Increases focus
The component parts (parts of the body that need to be warmed up or educated in order to do the pose) are as follows:
Hip flexor opening: the front of the hip needs to be stretched and opened.
Backbend: the backbend should initiate from the upper back (thoracic) and the lower back should be stabilized by the core, which leads us to ….
Core stability: engaging the abdominals intelligently prevents over-compression in the lower back
Hamstring opening: to hinge forward from the hip, the backs of the legs need to be open.
Arm in extension: the arm that is holding your foot is moving backwards in space. This helps with chest opening.
Balance: training the outer hips and ankles to support us in space.
Here's a flow sequence that helps you warm up your body to make the most of the pose! Props you may want:
Opening
Virasana – Hero's Pose
Cat Cow with leg and arm extended (Dancing Cat)
Warm Up
Surya Namaskar A with low lunges
Triangle trikonasana
Twisted chair parivrttta utkatasana
Eagle garudasana
High lunge with arms clasped behind
Wide legged forward fold prasarita padottansana  c
Sphinx and Locust salabhasana
High lunge into twisted lunge parivrtta parsvakonasana
Thigh stretch (add a quad stretch in low lunge, or do a pose like saddle)
Locust and Bow dhanurasana
Warrior 3 virabhadrasana
Peak
Dancers holding foot with simple standing quad stretch natarajasana
Dancers holding foot with arm in extension (behind), adding hinged forward backbend
Dancers holding foot with both arms above head and elbows bent – use strap to hook foot
Counter
Forward fold janu sirsasana or paschimottanasana
Seated twist ardha matsyendrasana
Thread the needle or seated outer hip stretch agnistambhasana
Happy sequencing!
Icon for infographic from: