As many of you know, I took a yoga retreat to Bali recently. In fact, this was my first yoga retreat ever as a practitioner! Part of the reason that I took this yoga retreat was because the folks at Book Yoga Retreats gave me a shout and asked me to review their services.
Me: "Wait. You're going to help fund me to go on a yoga retreat in exchange for an honest review?"
BYR: "Yes."
Me: "And I can go anywhere you offer retreats?"
BYR: "Yes."
Me: "Is there a catch?"
BYR: "No."
Me: "Ummmm…okay?" (Small dance of incredulous joy.)
What an offer! I immediately started investigating my options. Book Yoga Retreats has literally thousands of retreats on their site. The possibilities were – quite literally – boggling. While I did check out options from all over the world, I ultimately narrowed my search down to Indonesia. Bali has been on my list for quite a few years, so why not go there?
Book Yoga Retreats is very user-friendly. Because – like many of us – I have a job, I needed to look at specific dates for going away. No problem. I input my start date and geographic region and then scrolled through the options.
I could search by several parameters:
region
categories (there are 80 to choose from, and the categories include pricing preference)
dates
yoga style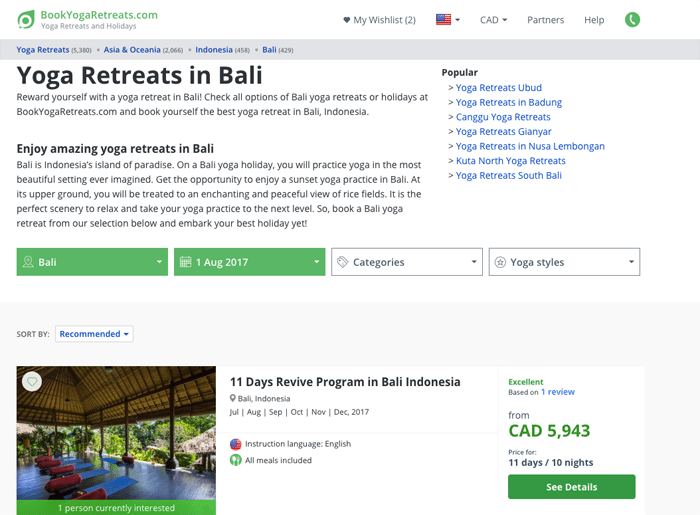 When I input "Bali" and my start date, the site returned about 200 retreats (amazing!). I could then sort the results by:
recommendations
price
duration
popularity
number of reviews
Being conscious of my budget, I tailored my search by price. Each listing had a photo and a quick blurb that included price, location, reviews, languages, available dates, and amenities. I could easily earmark my "favorites" with a heart and return to them quickly for further review.
By clicking on "see details," I could see more photos, retreat highlights, recommendations, location, cancellations policies, and retreat details. The listing template is very thorough; you know exactly what you are going to get. With one-click, you can request a reservation or communicate directly with the host. I found the candid testimonials for each listing extremely helpful, especially because they weren't all rave reviews. The testimonials provided the information I needed to feel confident about my retreat decision.
I contacted about ten different venues to ask specific questions about their retreats. In almost every case, I received a response from the hosts very quickly, directly to my email. The one time that I didn't receive a quick reply, I received a note of apology from Book Yoga Retreats and suggestions for other, similar retreats. Communication with the hosts was very easy and secure payment was a snap. My only complaint about communication was that I did not have an easy access link to these conversations through the Book Yoga Retreats website; I had to click from the link that I received via email.
Summary of Pro's
Thousands of retreats to choose from
Detailed listing template
Lots of helpful photos
Easily find a retreat to fit your schedule, budget and desires
Testimonials from fellow travellers give you a candid sense of the venue
Easy communication
Easy booking and secure payment
I loved my experience with Book Yoga Retreats. My package included yoga lessons, surf lessons, massages, snorkelling, and two daily meals – all for under $700. What a deal! However, it's useful to understand that my priority was to find a retreat that fit my budget, time, and desired activities; my priority was not to find the best quality yoga. Strangely (for a yoga retreat) my priority was not my yoga experience. I am a teacher trainer and have practiced yoga for a long time. While I expected the classes to be safe and pleasant, I didn't expect to find my next guru. My expectations were well-founded; although my teacher was lovely, she was newly certified and did not have much teaching experience.
If you're going to a retreat centre that runs on-going yoga classes, it's likely that the yoga classes are either outsourced to a local studio or taught by live-in yogis. For example, on my retreat, I took my yoga classes down the street at an independent studio. Signing up for the "retreat" was a way of having a few enticing services (yoga, massage, and surf lessons) conveniently batched into one price point. My hotel took responsibility for coordinating these services with local vendors. So yogi beware: your teacher may have gotten certified three months ago. They may teach an unusual style. Strangely (for a yoga retreat), the quality of the yoga may not really be the point.
If I had wanted to go on a yoga retreat to specifically deepen my practice, then I would have sought out a specific teacher for my continuing education and then tailored my vacation time around their specific retreat. While some yoga teachers do advertise on Book Yoga Retreats, it is not easy to search for them.
Bottom line: if you want to practice a specific yoga style or are looking to study yoga with a particular teacher, book your yoga retreat through your teacher directly. Book Yoga Retreats is not a source for educational yoga retreats, but for experiential yoga retreats. Book Yoga Retreats specializes in servicing the casual yogi, who is open to experiencing whatever yoga style is provided.
Summary of Con's
You probably won't know who your yoga teacher is
Teaching quality may vary
Yoga styles may not be accurately listed
No access to communication with host via website (you can only access conversations via email)
Sometimes it's hard to know why yoga retreats may have widely different price points
Book Yoga Retreats is continually striving to improve. When we chatted about my feedback, they mentioned that they were working on their search parameters and hope to develop better tools to support searches for educational and teacher-driven retreats.
To summarize, their niche (and they excel at it):
Book Yoga Retreats provides casual yogis and adventurers with access to a wide range of retreat experiences in fascinating locations around the world.
If you've got some wanderlust, head on over to their site and take a look. Get inspired by the possibilities.