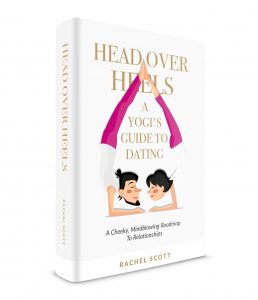 Coming Soon – 2017
Join My Launch Team and get your copy FREE on Launch Day!
"Broken up at the age of forty and yearning for a family, I took a deep breath and jumped onto every online dating site imaginable: E-harmony, Tinder, Match, Plenty of Fish, and OK Cupid. A professional yogi for over a decade, imagine my shock when I discovered that these awkward coffee encounters were turning out to be a profound opportunity for spiritual transformation."
A blend of "Calling in the One" meets "Bridget Jones Diary," Yogi's Guide to Dating shares how the timeless wisdom of the yoga tradition is also your pragmatic companion for romantic adventures. Perfect for readers who are looking to incorporate mindfulness into all areas of their lives, this sassy, insightful, and heartfelt book is the perfect bridge between coffee dates and karma.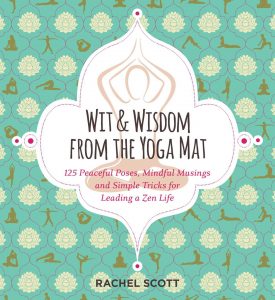 Available Now!
Check it out: Amazon.com | Amazon.ca
"Embrace mindfulness and alleviate anxiety by integrating the philosophy of yoga into your daily life with this fun and approachable illustrated book for anyone who needs to restore some balance—even if you can't touch your toes!
Center yourself—and your life—on and off the mat with Wit and Wisdom from the Yoga Mat. Everyone can benefit from a little more balance in their lives, and yoga's blend of mindfulness practices and restorative poses creates the perfect antidote to our increasingly high-stress lives. This inspiring collection of quotes, aphorisms, poses, and even breathing exercises will help everyone—yogi or newbie—benefit from the physical, mental, and emotional perks of regular yoga practice, without breaking a sweat. Filled with the wit and wisdom of esteemed yogi Rachel Scott, this approachable book will help clear your mind, while brightening your day."