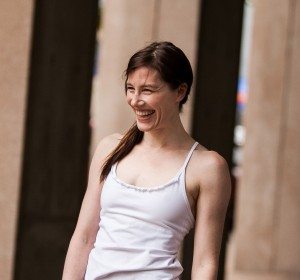 Rachel will be teaching at the Victoria Yoga Conference February 2-3rd, 2013.  Don't miss this great opportunity to take advantage of her best insights from her years as a Teacher Trainer!
Empower Your Boundaries – Saturday, February 2, 2013 – 8:00 to 9:15 am – Studio #1
Clear and strong boundaries give shape and discipline to our lives. In asana, clear and efficient engagement of the outer lines of our bodies harness our power so that we can graciously and effectively use our inner strength to take our practice to the next level. In this Wake up the strength of the inner and outer lines of the hips, legs and arms, and discover more grace, ease and stability in all your yoga poses.
Happy Knees, Happy Pigeons – Saturday, February 2, 2013 – 1:15 pm to 2:30 pm – Studio #1
Located between the mobile hip and ankle, your vulnerable knee often becomes the victim of mismanaged communication. Learn about the structure of the knees and empower yourself to protect them in all asana – including the treacherous pigeon pose. Through both power point and practice, you will gain a new and visceral understanding of this marvelous joint. As a bonus, discover why "flexing the foot to protect the knee" is a myth.
Sun Salutations – Sunday, February 3, 2013 – 2:45 pm to 4:00 pm – Studio #1
Ever wondered if you were really doing chaturanga right? Want to figure out that pesky jump forward? Revolutionize your sun salutes with this in-depth, fun, and transformative workshop. With just a few simple adjustments, you will learn how to protect your joints, prevent repetitive stress injury, and fire up your core. You do them every practice, it's time to do them right!